About Us
Our Pre-School
We are a community based, voluntary managed, pre-school in the village of Cobham in Kent. We provide quality care and education for children from the age of 2.5 years until starting school. We run a wide variety of activities for our children, 5 days a week during term time.
Our Aims
Our pre-school aims to:
Provide high quality care and education for children below statutory school age;

Work in partnership with parents and carers to help children learn and develop;

Offer children and their families a service that promotes equality and values diversity.
For more information on what you can expect your child to be achieving during their pre-school years and how you can help them, please read the What to Expect guide. We follow the Early Years Foundation Stage (EYFS).
Our Staff
Our pre-school Manager, Alison Scott, is a qualified teacher and manages a team of seven experienced and well qualified staff. Alison is also our Designated Safeguarding Lead. Many of our staff have been working at our pre-school for a number of years.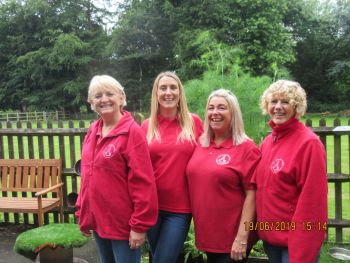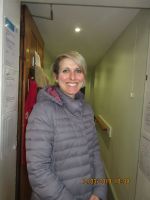 (L-R: Debbie Theobald, Lauren Fordham, Tracy Wrench, Debbie Barnes, Rachael Harrington, Kerry Sheppard - Deputy Manager and SENco,
Alison Scott - Manager, Sarah Vasquez, Becky Newnes - Pre-school Finance Administrator)
Our Committee
Our pre-school is managed by a parent committee whose members are elected by parents of children attending the pre-school. The elections take place at our Annual General Meeting in September, all parents and carers are invited. The committee is also responsible for organising fundraising events to help pay for new equipment and special projects for the pre-school. In addition the committee act as trustees for the charity. Committee meetings are held regularly, for more details please contact [email protected]
Our current Committee is Leah Harrington (Chair), Joanna Robbins, Keeley Colyer (Secretary), Amy Champion, Nikki Bourne, Sarah Martin and Carla Matterface
For details on how you can help with fundraising please see our Fundraising page
Our Setting
Cobham Community Pre-School is set in its own large room within The Meadow Room. The room is equipped for a wide variety of activities. We also have sole use of a large garden with playhouses, a playframe, mud kitchen, bikes and slides. We also use an additional room for some sessions as well as the hall.
Our Uniform
Uniform is entirely optional. Polo shirts, sweatshirts and book bags, with the pre-school logo, are available from The Sewing Shop, 4 Echo Square, Gravesend, DA12 1NP or from MyClothing online.
Pre-School Policies
To view the pre-school's full policies on a wide variety of topics please visit our Policies page.